We are grateful to the Lord for another opportunity to have the Summer School of Truth (SSOT). This crucial time is absolutely necessary for our young people to be educated in and to develop a taste for the rich truths that we have inherited in the Lord's recovery.
This year's SSOT will be held online for all of the saints in the state of California for two weeks from Monday to Friday (or at other times as arranged by your locality or cluster of localities) for the lessons. And Saturday meetings will be altogether. This daily way will give the young people an encouraging opportunity to get the truth into them (one lesson at a time) as long-term nourishment without overwhelming them. As such we hope that you would prayerfully consider scheduling your summer activities around the dates of this year's SSOT.
---
---
Pictures and Testimonies
Last Meeting — Sharing
Overflow by class
---
Second Meeting
---
Kick Off Meeting
---
Teachers' Training
Calendar
What to Expect
We will conduct the SSOT by having 12 lessons for each class recorded by brothers throughout the state of California. Each lesson will consist of a video that will last for 15 minutes followed by a group time which each locality or locality cluster will arrange. This year we recommend the incoming 7th-8th graders cover the subject The Triune God, the incoming 9th-10th graders cover the subject Life, and the incoming 11th-12th graders cover the subject The Bible. Localities are welcome to blend with other localities as needed. We will have a California-wide launch on Saturday, June 12, 2021 and a conclusion meeting on Saturday, June 26. In between, each locality and group will carry out their own lesson group at a pace appropriate to them during the week. The brothers are recommending 6 lessons per week per brother Lee's original burden, but localities may choose to cover 2-3 lessons as needed based on the availability and capacity of the saints.
Lessons
We want to encourage all the parents, serving ones and college students to start getting into the lessons that will be presented during this summer school of truth and consider some practical applications, testimonies or illustrations that you can present to the young people in your group. Below you can find the 12 lessons per class with the lesson(s) book number.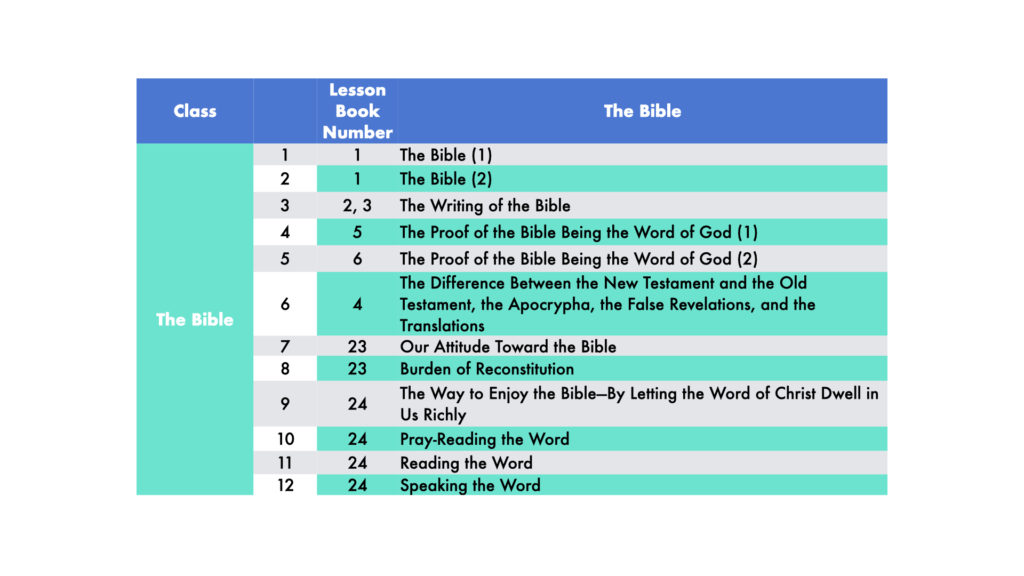 Activities and Materials
During this time, we also plan to have online activities during the day for the young people. We are sensitive to online fatigue and the fact that the students will be off school but hope to provide an environment that is "day by day" and "house to house" conducive to their learning and experience. The two categories of activities are:
For the Parents and Serving Ones
Our hope is that many parents, college students, and burdened saints would be able to participate in these short group times and that the Lord would have a way to appear to each young person.
How to Register
Contact your local Young People's serving ones for registration.
Continuing in Prayer
Please pray for this time, that the hearts of the young people would be good ground for the Lord's word and that this time would truly be a summer "restaurant" of truth in which the tasty dishes and healthy teaching of God's economy are served to the young people for their constitution and enjoyment.
FAQ
Click Here